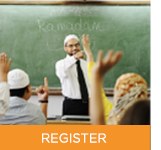 Simple Ramadan Guides
Want to know more about Ramadan and what it means to fast in the holy month of Ramadan? Do you have students at your school who observe the Holy Month of Ramadan and would like to know more? ISRE has developed simple Ramadan Guides for students and schools! Check them out here:
Simple Ramadan Guide:
Ramadan Guides For Schools:
Welcome to the new Islamic Special Religious Education (scripture) website!
Scripture classes in NSW Public Schools are a part of the biggest Islamic education project in Australia.
Browse through our site to learn more about what we do and how you can get involved!